Asphalt Sealcoating
Providing Professional Services Throughout the Fox Valley Area
---
Residential and Commercial Asphalt Sealcoating
Sealcoating is an asphalt sealing mixture that is applied over worn or weathered asphalt in order to reseal the surface, and protect it from the elements. Sealcoating is a quicker and more inexpensive way to get that fresh newly paved flat black look and also extend the life of your current asphalt, so you don't have to completely reinstall new asphalt. Sealcoating also gives your asphalt the traction that it has lost over the years. This is especially important because over time asphalt loses its strength and begins to smooth out and become slippery when wet which can be especially dangerous when driving.
Methods of Sealcoating:
There are a few different methods to applying sealcoat and which one we use for your asphalt will depend on the specific needs of your project. The main ways of applying sealcoat is broom, brush, or spray.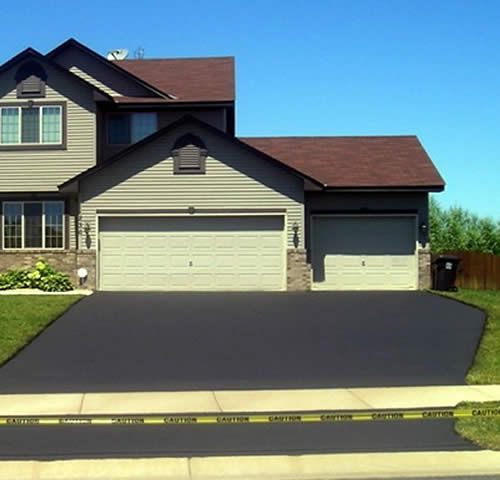 ---
Spraying
Spraying is most commonly known as the best application method. When spraying a sealcoat, it is very easy to apply it in a very uniform pattern and is left on the surface to give you a long lasting layer, extending your asphalts life greatly. Spraying sealcoat also allows the sealcoat the penetrate deep into the small crevices of the asphalt that would otherwise easily collect and hold moisture which would lead to breakdown.
Broom/Brush
This application is also a very effective way to apply sealcoat. When an area is too small or has lots of tight spaces, we will use a broom to apply the sealer. Using a broom will work the sealcoat down into the small crevices, leaving no air bubbles in the final product. Almost all jobs will require some kind of broom work especially around concrete, decorative rock, structures, or the street.